WARNING: We will begin website maintenance at 12 noon eastern time, February 22nd 2019. Some solving statistics will be lost during this time. If you care about solving percentages and points accrued we suggest you log out until this message disappears. Thank you for your patience!
Below are the final results from the March 2018 Success Rate Competition. Awards are given to the top twenty ranked players every month. You may click on a user's name to enter their personal trophy room. Don't see your name on this list? Keep trying! Three new competitions begin on the first of every month.
You may also view the results of other competitions from March 2018.
---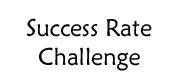 March 2018 Results